Chair Kent Ono speaks at Tongji University
Department of Communication Chair Kent Ono spoke at Tongji University in China earlier this month.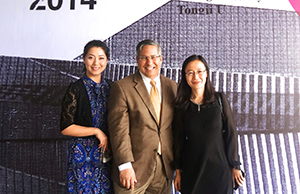 Ono was invited to speak as a visiting scholar, giving talks to undergraduates, graduates and the College of Arts and Media at the university.
The talk, "From Immigrant Adaptation to Differential Adaptation," looked at current immigration adaptation research and the idea of differential adaptation. Ono talked about issues with current adaptation research - including the conflation of "adaptation," "assimilation" and "acculturation" - and argued that current research needs to consider power, account for variability of immigrant experiences and understand the immigrants' role in shaping culture. He introduced differential adaptation theory, which considers those issues.
Tongji University, located in Shanghai, is one of the top universities in China. It serves more than 50,000 undergraduate and graduate students in various academic disciplines. The College of Arts and Media offers six bachelors and three masters programs, including advertising, journalism and communication, and cooperates with universities in Europe, Asia and the United States.