Danielle Endres Wins Research Experiences for Undergraduates Award from National Science Foundation
Congratulations to Dr. Danielle Endres for receiving a Research Experiences for Undergraduates (REU) award from the National Science Foundation Science, Technology and Society Division!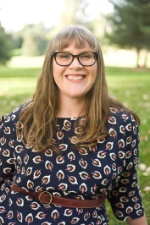 This award is a supplement to her current award for her project: "The Influence of Low-Carbon Energy Technology Scientists and Engineers on the Composition of Energy Policy." Through the REU supplement, Dr. Endres is able to hire undergraduate students to participate in the project. She is currently working to recruit 1-2 highly qualified undergraduate students to be research assistants on the project.
Could this project be a good fit for you or someone you know?
Description: This humanities project examines how scientists and engineers working in research on low-carbon energy technologies talk among themselves about the social, political, and cultural implications of their technologies. Dr. Endres' work uses rhetorical methods to analyze the discourse of wind and nuclear energy scientists and engineers. The findings of the project will contribute to academic knowledge production in environmental rhetoric and the rhetoric of science. The findings will also contribute to society discussions about energy solutions in relation to climate change.
If you would like more information on this opportunity, please contact Dr. Endres at danielle.endres@utah.edu.