PhD Alum Sarah Bell awarded Kluge Fellowship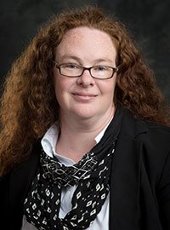 The University of Utah's Department of Communication alumna Sarah Bell (PhD 2015) has been awarded a Digital Studies Fellowship from the John W. Kluge Center at the Library of Congress.
The John W. Kluge Center brings together scholars and researchers from around the world to collaborate, utilize the Library's rich resources, and to interact with policymakers and the public. The Kluge Fellowship in Digital Studies specifically fosters scholarship that examines the impact of the digital revolution on society, culture and international relations.
She will use the eleven month residency to complete research and write her book on the history of speech synthesis and its implications for the future of human-machine and human-to-human communication. This project is an extension of her dissertation completed at the University of Utah. Her committee members were Maureen Mathison (chair), Glen Feighery, Rob Gehl, and Sean Lawson.
Bell is an assistant professor of digital media at Michigan Technological University, with research largely focusing on the critical, cultural, and historical study of how digital technologies mediate the body; digital rhetoric; media production; and information theory.