Professor David Vergobbi Leads National Convention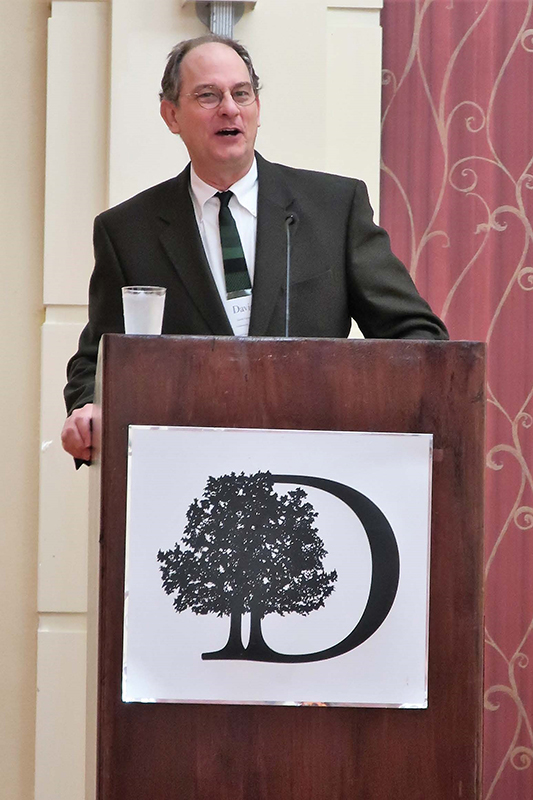 Earlier this month, Department of Communication professor David Vergobbi completed his term as president of the American Journalism Historians Association by leading their national convention. Duties included conducting the association's board meeting, performing as master of ceremonies for the Awards Luncheon and evening Awards Reception, organizing and presenting the President's Panel and serving as chair at the association's Business Meeting.
Dr. Vergobbi's term began in October 2014 when he was elected to 2nd Vice President, 1st Vice President and then onto President. Now he will serve for two years as an ex-officio board member and chair of the Long-Range Planning Committee. He was commended for his work as president and his 28-year involvement with the association at this year's convention.
Kim Mangun was also in attendance and was celebrated for her paper "Florabel Muir, the 'Newspaperman in Skirts' (1889-1970)." Dr. Mangun also served as president of the American Journalism Historians Association from 2012-2013. She and Dr. Vergobbi will be hosting the convention next year in Salt Lake City.
The American Journalism Historians Association was founded in 1981 to "advance education and research in mass communication history." Every year they host a convention and conferences, create committees, give awards and hold speaking events to promote and improve the standards of media history research.