Professor emerita publishes fiction novella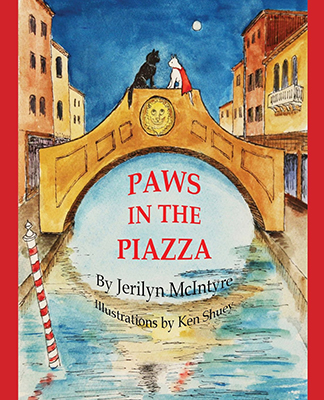 Professor emerita Jerilyn McIntire has published a fiction novella, entitled "Paws in the Piazza."
The self-published fiction novella, aimed at young teens, is about the Venetian adventure of a house cat named Harley.
"Back home, I was content to be just an ordinary house cat. I didn't get out much. But it's different here in Venice."
How different? Harley quickly finds out after his family arrives in Italy.
He takes up with a group of local cats who roam wild in the alleys and neighborhoods of Venice, and meets the mysterious Angela, a beautiful white Angora who steals his heart. Then he becomes embroiled in a fierce and ongoing war between his friends and a rival band of cats, and discovers the magical order that underlies life in the enchanting and historic city that is his new home.
"Paws in the Piazza: Harley's Venetian Adventure," was published late last year and is available at local booksellers The King's English and Weller Book Works, as well as online.
McIntire served in various positions at the University of Utah, including professor in the Department of Communication, for more than 20 years.