The amazing faculty and graduate students of the Department of Communication left the annual National Communication Association (NCA) convention with some of the highest honors awarded for the year. The 102nd annual convention was held Nov. 10-13 in downtown Phildelphia, Pennsylvania, and welcomed thousands of scholars from across the country. Below is a list of the awards presented to faculty and students.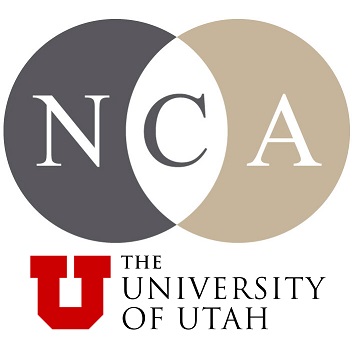 Professor Jake Jensen won the Golden Anniversary Monograph Award for second straight year for an article published in the journal Health Communication in 2015 titled, The health belief model as an explanatory framework in communication research: Exploring parallel, serial, and moderated mediation. The winning article was co-authored with Katheryn Christy, a current post-doctoral student; Jeremy Weaver, a current doctoral student; and three former graduate students from Jensen's Health Communication and Technology (HCAT) lab: Christina Jones, Courtney Scherr, and Natasha Brown. This top honor is presented to the most outstanding scholarly monograph(s) published during the previous calendar year.
Professor and Chair Kent A. Ono was awarded Outstanding Article of the Year by NCA's International and Intercultural Communication Division (IICD) for an article co-authored with U Ph.D. graduate Antonio Tomas De La Garza. The article, titled Retheorizing Adaptation: Differential Adaptation and Critical Intercultural Communication, was published in the Journal of International and Intercultural Communication in 2015.
Professors Danielle Endres and Michael Middleton's book Participatory Critical Rhetoric (Lexington Books, 2015) won the Outstanding Book of the Year Award from NCA's Critical/Cultural Studies Division.
Professor Helene Shugart's book, Heavy: The Obesity Crisis in Cultural Context, was awarded Best Book by the American Studies Division.

Ph.D. student Alison Yeh's paper, "Changing the Script: Social Scripts as Featured on Fresh Off the Boat," was selected as one of four Top Papers by the Asian/Pacific American Caucus (APAC) and Asian/Pacific American Communication Studies Division (APACSD).
Ph.D. student Diana Zulli was awarded Top Paper in the Political Communication Division for "Critiquing Hashtag Movements: Examining the Limitations of #BlackLivesMatter through Episodic Framing, Slacktivism, and Appropriation."
Ph.D. students Kristal Kareh andRob Layne were awarded Top Paper in the Applied Communication Division for "Interdisciplinary Organizations and Inter-Leader Development of Relational Maintenance Strategies."