Hasian, Lawson, and McFarlane Publish New Book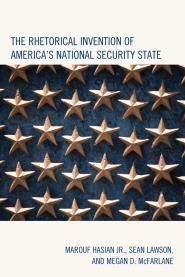 Congratulations to Department of Communication Professor Marouf Hasian, Jr., Associate Professor Sean Lawson, and Associate Instructor Megan McFarlane on the release of their book, The Rhetorical Invention of America's National Security State, published by Lexington Books.
Their book examines how the national security state has grown since the terrorist attacks on the Twin Towers in 2001 by analyzing the rhetoric of the Global War on Terrorism, mass surveillance, enhanced interrogation techniques, the increased use of Special Forces, cyber war and threat inflation, drone pilot stress, and Edward Snowden.
A major argument of the book is that the national security state is not something that is produced by one actor or rhetor, but rather is co-produced by elites and non-elites in America who condone, and call for, the need for an expanded national security state in order to (often preemptively) combat perceived threats against the United States.
Ultimately, Hasian, Lawson, and McFarlane argue that the rhetorical construction and proliferation of the national security state is often based in responses to invented and exaggerated threats founded in military orientalism and American exceptionalism. These responses will likely continue to contribute to the growth of assorted cottage industries for the national security state but may not, in fact, actually increase our security and instead contribute to more war.
"The three of us have been working on issues at the intersection of national security, the military, and rhetoric for years, each with a slightly different focus," Lawson explained. "We had all been frustrated that there wasn't a lot of work that approached these issues from a more comprehensive perspective. We envisioned a work that would look at the national security state through multiple rhetorics and discourses, from entertainment to legal, to professional, and more all in one work."
The book is part of Lexington's Studies in Contemporary Rhetoric series, which "provides thought-provoking and accessible analyses of the uses of language and media from the middle of the twentieth century to the present." It is available on Amazon or at Rowman & Littlefield's site.