U of Oregon's Colin Koopman Kicks Off Colloquium Series
The Department of Communication's colloquium series commenced for Fall 2015 with Dr. Colin Koopman, associate professor of philosophy at the University of Oregon.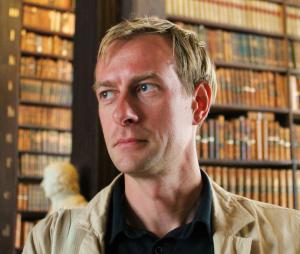 The talk, titled "Informational Politics for Informational Persons," was presented Thursday, Sept. 10 in the LNCO Reading Room (2120). Koopman asserted that a number of contemporary political assemblages, from mass surveillance to finance capitalism and big data, suggest that the world may be in the midst of new political conditions. Many have sought to conceptualize those assemblages in such terms as "the information society or "new media culture," while others would categorize them as an ideological effect of neoliberalism. Koopman argued for a different conceptualization of the stakes of contemporary political transformations by attending to potentially new modes of power that he believes are "redefining the very terms of the politics of the now." He concurs with other new media theorists such as Wendy Chun, Alex Galloway, and Tiziana Terranova, who have made productive use of the political philosophy of Michel Foucault to rethink the conditions of new media.
Koopman posited that the emerging political landscapes can't be comprehended under previous conceptualizations of power (the sovereign power of the state, the disciplinary power of training, the biopower of regulation), but rather by an emerging notion of "infopower" that intersects information and power. He focused in particular on how societies have come to recognize themselves in the flurry of information and data that is constantly being produced about and by them -- including social media profiles, dossiers and transcripts, and identificatory paperwork. Utilizing Foucaultian methodology, Dr. Koopman investigated the history of how people have become as information-focused as society is today. Specifically, his focus was on an array of practices from the 1910s-1930s that precipitated the emergence of the total informational vision of cybernetics.
Find out more about Dr. Koopman and his research here.
Next Event: Thursday, Oct. 1 at 3:30 p.m. in LNCO 2120
Join us for the next colloquium, featuring Dr. Brian Moench
"Pollution, Politics and Persuasion"