Professor Kim Mangun Wins U's Faculty Recognition Award
Communication Associate Professor Kim Mangun has been awarded the U's Career Services Faculty Recognition Award in its inaugural year. This new honor was created in an effort to recognize faculty members who are contributing to students' career development and exploration.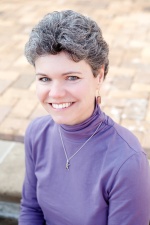 "With a campus of more than 31,000 students, we recognize that our career coaching staff of 10 cannot possibly meet with every single one of these students multiple times, and for the majority of students, career conversations are not a one-time occurrence," said Kelly Dries, associate director of Counseling Services and Operations for U of U Career Services. " This is why one of our missions in Career Services is to foster a culture at the University of Utah where everyone is engaging in career conversations."
Dr. Mangun, who also serves as associate director of the U's Lowell Bennion Community Service Center, was nominated by a student and chosen from among more than 100 nominations as of the 20 winners. The nomination emphasized Dr. Mangun's dedication to helping students find resources, figure out their career passions, and realize the possibilities that exist for their futures. "You are truly making a difference in the lives of students, and we would like to take the time to recognize you for that," Dries stated about Dr. Mangun. "You are an instrumental partner in the success of our students' futures after they leave the institution, and we want to say thank you."
The winners will be honored at a recognition breakfast on March 4 with a keynote address by Vice President for Academic Affairs Ruth Watkins.
Dr. Mangun's nomination was submitted by student David Fisher, who wrote as part of his nomination:
"Professor Mangun not only sparked my passion with journalism and reporting, she also helped me prepare for the career world ahead of me. As someone who feared interviewing people to create a story, Professor Mangun helped me get over this fear through her class, Voices of Utah. I still remember on day 1 of the class we had an assignment where we had to interview the student sitting right next to us, and create a 500 word story on them. The story I wrote was awful, and I was in need of improvement within the field of reporting, interviewing, and journalism as a whole. By the end of the semester I was writing published pieces of work focusing on the local business beat for the Voices of Utah publication. These pieces of work are now ones that I include when applying for journalism related positions. This was all possible thanks to the teaching method that professor Mangun used throughout the semester, actively having students get involved through the community, and learning through community interactions.
Professor Mangun taught our class how to market ourselves as journalists. She taught us how to use programs such as Wordpress, Soundslides, Twitter, and even had us create our own LinkedIn profile. All of these are applications which would make us stand out among other applicants for journalism positions. Professor Mangun had us read articles focusing on improving many skills within the journalism track. Instead of just having us only read the article, she made us analyze what we gained from it. Being able to go beyond simply just reading an article helped me learn a lot more outside of the classroom. She also brought in a variety of guest speakers. Most notable was one of the heads of PR for the Local First Utah campaign. Through this speaker, students were able to network with local businesses throughout the Salt Lake valley to write stories on. I was able to feature a local business called Chili Beak, and create a brand new relationship and networking experience with this company.
I could keep going on about everything that Professor Mangun had provided me as a student. Voices of Utah was certainly the most memorable class I have ever had during my career at the University of Utah, and the class that I gained majority of my skills as a journalist from."
Learn more about Dr. Mangun's research, teaching and service to the university here.