Chair Kent Ono Wins NCA Teaching Award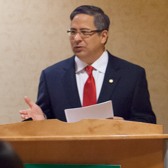 Communication Chair Kent Ono has been selected to be honored at the 2015 National Communication Association for his pedagogy and teaching style. At the national conference in Las Vegas in November, he will be honored with the NCA Teachers on Teaching "Teaching Award."
As part of this honor, Ono will speak about his pedadogy and teaching philosophy. The audience will also get to hear from select people that have been positively impacted by Ono's mentorship. The "Teachers on Teaching" program is a way for NCA to spotlight Communication's most impressive and effective teachers and to provide the audience with an opportunity to hear directly from those faculty members and the students he or she inspired.
Congratulations to Dr. Ono for winning this prestigious award!