Student Spotlight: Anastasia Najarian Represents the U at Oxford Consortium for Human Rights
Communication student Anastasia Najarian was chosen by the Honors College to represent the University of Utah at the Oxford Consortium for Human Rights at Oxford University, which she attended June 24 - July 8, 2016.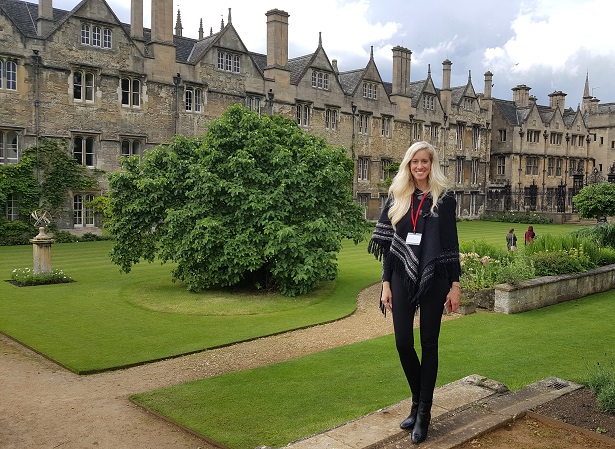 Anastasia said the consortium was an intimate opportunity to learn from global experts on human rights about current issues and how to address them. The workshops were student focused, but with a faculty component involving collaborative research, which became an integral part of Anastasia's honors thesis. She is currently finishing a double major through the Honors College in Communication and Psychology and completing her honors thesis with Communication Professor David Vergobbi. Her research focuses on the legal aspects of global dissemination of information regarding sensitive populations receiving mental health treatment, specifically relating to issues in Northern Ireland (political prisoners, police, and civilians) and the civil rights violations and reconciliation process demonstrated in the region.
Anastasia and the other student participants engaged in intense discussions at Oxford surrounding the consortium's theme, "Religion and Human Rights: Citizenship in a Global Era," and appropriate means of communicating this information and then traveled to Northern Ireland to research an area suffering from post-conflict.
Anastasia said, "After instruction and discussion of global human rights issues and religion at Oxford University by US and Oxford professors (including Hugo Slim the Head of Policy for the International Committee of the Red Cross), we traveled to Belfast and Derry, Ireland, to experience post-conflict issues in real life. I was able to engage in depth interviews arranged by veteran CNN foreign correspondents Peter Taggart of Ireland and Mike Chinoy, former CNN Beijing and Hong Kong Senior Bureau Chief. We also enjoyed discussing issues with Malachi O'Doherty a journalist, author and broadcaster in Northern Ireland. All have extensively covered the height of the Troubles from 1970-1990. The Irish journalists are currently reporting on reconciliation and Brexit issues affecting Northern Ireland. All have agreed to explore my thesis and promote my work in Northern Ireland as proposed."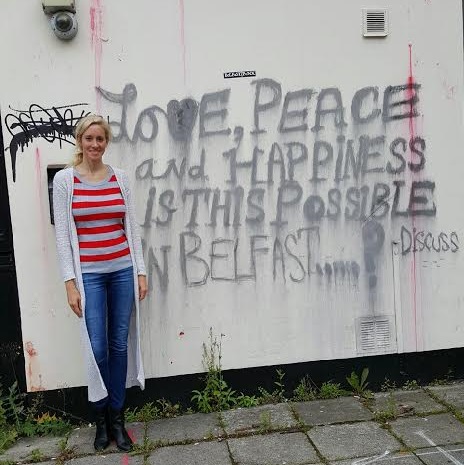 The Oxford Consortium came at a particularly timely moment for discussing human rights and mental health issues, as Anastasia emphasized. "Brexit has adversely affected Ireland and EU financial support of peace promoting programs. Malachi O'Doherty is very concerned that the Troubles can come back. All parties interviewed stated that there are major mental health issues in the aftermath of the troubles that have not been adequately addressed by policies in The Good Friday Agreement. The troubles are still percolating just under the surface and could easily flare up again. Issues of major concern include the highest rates of suicide in the UK, depression, combat-related PTSD and alcoholism. People affected include ex-prisoners and their families, police and the civilian population."
As the Outreach Manager for the University of Utah's National Center for Veterans Studies (NCVS), Anastasia says her position has allowed her to use her education and training in Strategic Communication to promote services and raise funds for veteran suicide prevention and combat-related PTSD. She believes the issues discussed at the consortium can be directly addressed by the work she is doing with NCVS. "NCVS is interested in bringing our research to Northern Ireland to benefit their struggling people," she said, noting that several leaders at the conference expressed interest in what the U and NCVS can offer Northern Ireland and that she is maintaining contact with them.
Upon completion of her honors thesis, Anastasia says she is putting her work into action by creating a blog titled "Beyond Blood and Tears, An American Student in Belfast." She said she will do this "to create interest, funding and open a dialogue to bring healing to Northern Ireland. I have garnered support for my thesis from the Oxford Consortium, University of Utah's National Center for Veteran Studies, the Hinckley Institute and the U's Office of Global Engagement."
The Department of Communication, the College of Humanities, the Honors College, and the Tanner Center for Nonviolent Human Rights Advocacy sponsored Anastasia's travel and attendance to represent the university. At the 2016 Communication Awards Banquet, she was inducted into the national journalism honor society, Kappa Tau AIpha, and was awarded the department's Ida Mae Hanks and Jay and Sharlene Glasman Family Scholarship.