Professor Helene Shugart Publishes New Book on the Cultural Context of the Obesity Crisis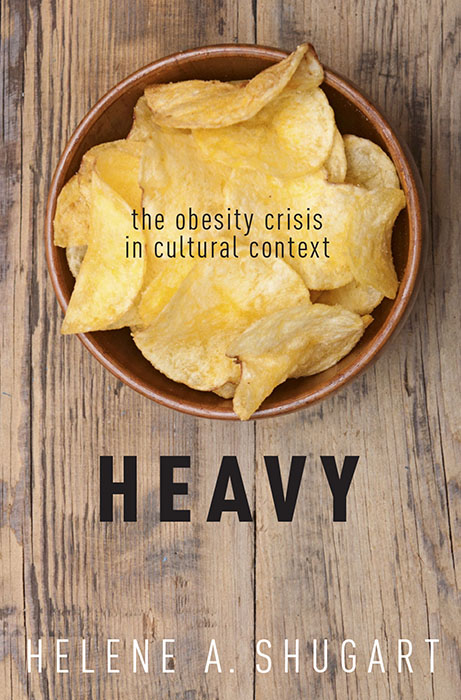 Communication Professor and Associate Chair Helene A. Shugart published her new book, Heavy: The Obesity Crisis in Cultural Context, in July 2016 through Oxford University Press. In Heavy, Shugart interrogates why obesity campaigns have failed and are failing, argues that there is a disconnect between official campaigns and cultural understandings of obesity, and places the contemporary instability regarding what obesity is (and why it is) in political economic context.
Shugart serves as the Communication Department's Director of Graduate Studies and her research synthesizes rhetorical, media, and cultural studies to critically assess cultural discourses. Culminating in this new book, Shugart's most recent work examines discourses around health, concentrating specifically on obesity.
From the book's description at Oxford University Press: The current "obesity epidemic" has been at the top of the national and, increasingly, global public agenda for the last decade, the subject of extensive and intensive concern, scrutiny, and corrective efforts from various quarters. In the United States, much of this attention is predicated on the "official" discourse, or story, of obesity-that it is a matter of personal responsibility, specifically to the end of monitoring and ensuring appropriate caloric balance. However, even though it continues to have cultural presumption, that discourse does not resonate with the populace, which may explain why efforts of redress have been notoriously ineffective. In this book, Helene Shugart places obesity in cultural, political, and economic context, arguing that current anxieties regarding obesity reflect the contemporary crisis in neoliberalism, and that the failure of the official discourse of obesity mirrors the failure of neoliberalism more broadly: specifically, to account for authenticity, a powerfully resonant cultural concept today. She chronicles a number of competing discourses of obesity that have arisen in response to the failed official discourse, examining and evaluating each in relation to the idea of authenticity; assessing the practical and behavioral implications of each discourse for both obesity incidence and redress; and establishing the significance of each discourse for negotiating neoliberalism in crisis more broadly.
Stanley Ulijaszek, Professor of Human Ecology and Director of the Unit for Biocultural Variation and Obesity at the University of Oxford, said, "Heavy is a triumph of a book, a must-read for anyone interested in obesity in the United States. It is an extremely readable account of how the population of this great nation got into this seemingly intractable problem. Helene Shugart shows how political, corporate, and media representations of obesity fail the test in the eyes of ordinary people in their everyday experience of obesity. The book reflects broader cultural tensions and anxieties in the United States, making it much more than a book about obesity."
Tarla Rai Peterson, Professor of Communication and Coordinator of Rare Mozambique at the University of Texas at El Paso, said, "Helene Shugart makes a bold, compelling case for obesity as the ideal field for both cultural negotiation and scholarly exploration of contemporary tensions between radical individualism and authenticity. Her dynamic retelling of contemporary stories of obesity explains both how and why these disparate narratives manage to capture both the cultural imagination and the public purse, while failing to significantly loosen neoliberalism's stranglehold on public policy. And, even better, she hints at how their transformation might contribute to this end."
For her previous book, Making Camp: Rhetorics of Transgression in U.S. Popular Culture (2008, University of Alabama Press), Shugart won the National Communication Association's 2009 Bonnie Ritter Book Award in the Feminist and Women's Studies Division. She was also awarded the National Communication Association's 2009 Best Book Award in the Critical Cultural Studies Division.
Heavy: The Obesity Crisis in Cultural Context can be purchased from Oxford University Press here or on Amazon here.