NCA Analysis Finds Communication Faculty Jobs on the Rise
Great news for our communication majors and graduate students who will be seeking faculty positions! While many academic disciplines are experiencing a tight job market, faculty job openings in communication are increasing, according to an analysis from the National Communication Association (NCA) released in March 2016.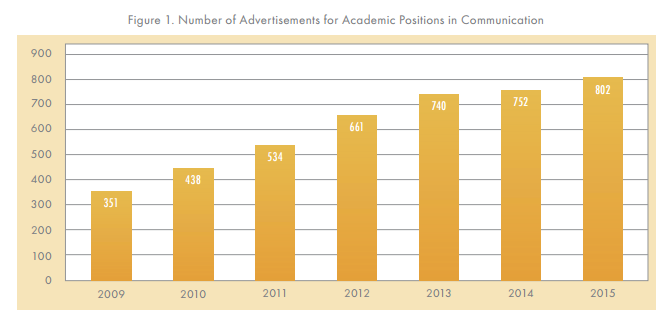 NCA found that academic employment opportunities for communication faculty continue to increase, with the number of advertised academic communication positions more than doubling from 2009 to 2015. The association identified 802 openings in 2015, up from 752 the year before and 351 as recently as 2009. Our own Department of Communication is expanding significantly with the hiring of five new tenure-line faculty, starting July 2016. Read about those fantastic new hires here.
The top five specializations sought in job listings (and all represented within our own department) are:
strategic/public relations/advertising

mass communication/media studies

organizational communication

digital/emerging/new media

journalism
To gather this information, NCA conducts an annual analysis of college and university searches to fill academic positions in communication and then collects data from job postings in the online NCA Career Center, CRTNET (a disciplinary listserv to which employers may post position announcements), and Spectra (NCA's magazine). The annual report provides a descriptive account of the academic communication job market over the last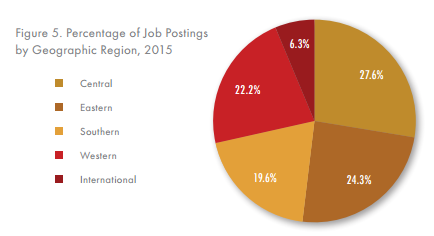 seven years, as well as a comparative analysis with other disciplines. It also includes a detailed assessment of jobs posted in 2015 and information on the geographic distribution of communication jobs available in throughout the last year.
Of the 802 jobs advertised in 2015, the analysis found 51 were international, with institutions spanning 15 different countries posting advertisements with NCA. Of the domestic positions advertised, the Central region posted the most advertisements, with 221. The Central region was followed by Eastern (195), Western (178), and Southern (157).
One particular area of interest for Ph.D. graduates is the availability of faculty positions in comparison to the number of doctorates being conferred each year. "Much attention has been paid to the seeming over-production of Ph.D.s relative to the evolving academic job market," the NCA report noted. "To explore this concern, we use the National Science Foundation's Survey of Earned Doctorates (SED). The SED reports that 626 doctorates in Communication were conferred in 2009, 637 in 2010, 651 in 2011, 597 in 2012, 649 in 2013, and 664 in 2014. The availability of faculty positions in comparison to new doctoral gradutes is actually improving each year in the field of communication, according to the report. In 2014 (the year of the latest SED report), there were 752 advertisements for academic positions in communication, while 664 people graduated with communication Ph.D.s the same year.
The job market is looking very promising for our well-equipped Communication graduates! The U Department of Communication is proud to provide new faculty positions for highly qualified candidates and to prepare our top-ranking graduate students to excel in the international academic job market. Read the full NCA Academic Job Listings Report here.